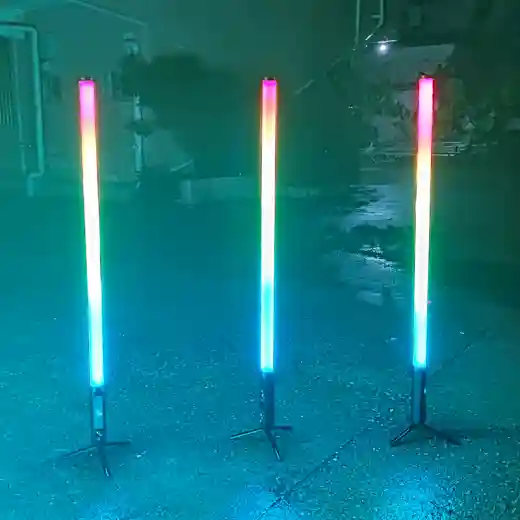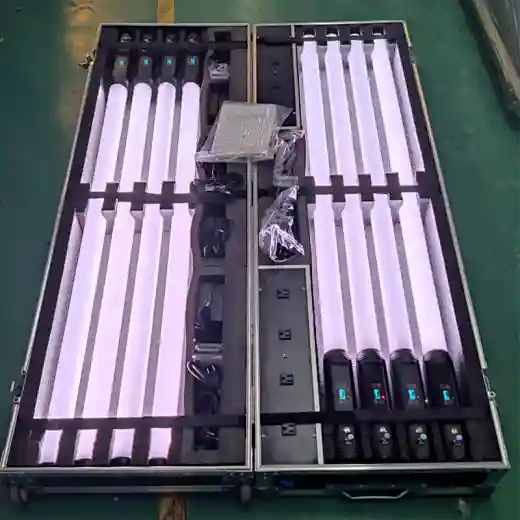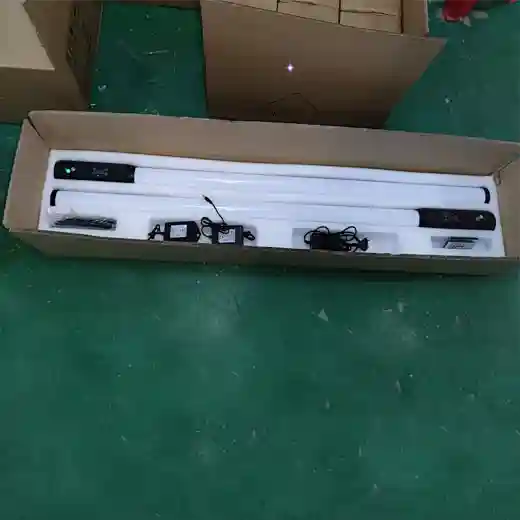 Battery Powered Wireless 360 Degree RGBWA 5in1 Pixel LED Bar Light
BLBBPB01
WIFI APP Battery Powered Wireless 360 Degree RGBWA 5in1 Pixel LED Bar Light
Model No.: BLBBPB01

Technical Parameters:
Input voltage: 100-240Vac, 50/60HZ
Power: 28W
Color system: RGBWA 5in1 color mixing
Power connection: the charging interface is in the air box, and the adapter can also be used for charging
Signal connection: 2.4G wireless connection, wireless connection within effective distance
Battery: Lithium electronic battery, 9600MAH
Display: OLED display
Maximum running time (full light): 1 hour/2 hours/3 hours/4 hours/5 hours/6 hours/7 hours/8 hours/9 hours/10 hours/11 hours/12 hours mode selectable
Maximum runtime (monochromatic bright): up to 8 hours
Charging time: 7 hours
Strobe: 0-30HZ
Dimming: 4 dimming modes
Control method: wireless DMX, mobile phone APP, remote control
Channel: 4CH/5CH/6CH/7CH/12CH/40CH/80CH/160CH
Cooling system: natural cooling
Shell: aluminum alloy, semi-gloss oxide fine black sand
Standard accessories: infrared remote control, charger
Size: 1435MM (length) * 50mm (diameter)
Weight: 2.5kg

Package:
Carton box 2in1: 151*29*15cm, 6kg
Charging case 4in1: 155*50*21cm, 27kg
Charging case 8in1: 155*50*27cm, 38kg

Features:
1.360° light emission, uniform light output,
2 High color rendering index, long battery life,
3. Bright and saturated colors,
4. Aluminum alloy shell, firm body, compact structure, excellent heat dissipation, equipped with lifting ring screws, foldable base, very convenient installation
5. Color temperature 1750K-10000K (unit: 250K) adjustable;
6.32 pixels, which can be controlled individually;
7. OLED touch screen, easy to operate;
8. Support wireless DMX (compatible with Swedish wireless), mobile phone APP, remote control
9. Single lamp control, multi-lamp combination master-slave control, remote control control, console control, APP control, etc.